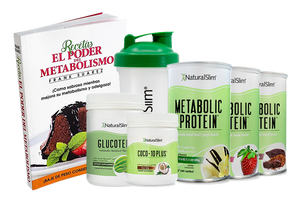 Enjoy the holidays without feeling guilty!

In this kit you will find all the NaturalSlim ingredients you need to make more than 200 recipes for all occasions.

What's included?

Book: Recipes "The Power of Metabolism" by Frank Suarez.
More than 200 delicious recipes for all occasions. Combinations of the super successful 3x1 Diet. Only available in spanish

METABOLIC PROTEIN: Protein shakes in every flavor. Metabolic Protein is used to improve metabolism and reduce hunger. It comes fortified with vitamins and minerals making it a complete "meal replacement".

SHAKER: Container to mix your Metabolic Protein shake.

GLUCOTEIN: A blend of resistant starch flour from green plantain and green peas, used to make bread recipes, cookies, breading or to thicken sauces. It is also beneficial for metabolism and digestive processes.

COCO10PLUS: is a blend of organic coconut oil with the Japanese supplement CoQ10, which improves your metabolism by supporting the function of the thyroid gland and helping to detoxify the body. It is unflavored and blends into the shake.